Frequently Asked Questions
Q. What is profiling and why do we need it?
A. Most training programs and packages recognise work based experience as an integral part in the development of a well-rounded, competent and qualified workforce. In some instances, it is mandatory Registered Training Organisations (RTOs) to collect evidence from the workplace  to help them monitor and assess a trainee or apprentice's competency development.
Gathering work based evidence  for assessing training outcomes, requires a tri-party arrangement between the apprentice, trainee or employee, their manager or supervisor and a third party such as a Registered Training Organisation (RTO) or HR department.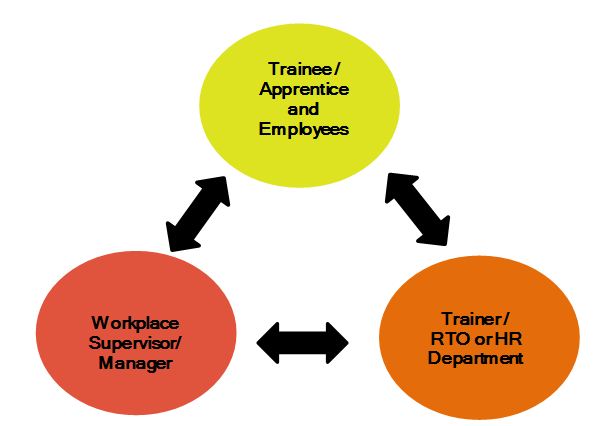 For many years trainers, HR managed and workplace supervisors relied on paper based systems and logbooks to track the on the job experiences of their trainees, apprentices and staff, which was both costly and cumbersome. They need a good quality, efficient and cost effective way of gathering this information
Electronic profiling uses a web based platform to provide a profile of the trainee or apprentices  training and development progress.  In some instances, this results in the award of a national qualification, for example in the electrical industry.
Q. How is the profile created?
A. The workplace profile is created by capturing and reporting on a trainee or apprentice's work experience covering a diverse range of work functions and levels of responsibilities, which are directly aligned to a specific training package or program.
Trainees, apprentices and employees enter and submit information about their workplace experiences onto the online profiling cards.
Their workplace supervisor logs on to the system, to review, approve or reject the submitted profiling card.
Whilst trainers and HR departments can log on to monitor progress, apply credits for previous work experience and training, or to sign off on training units once assessed off the job.
All users can log onto the system anytime, and run reports to track and analyse competency progression or identify training gaps.
At the end of the training program, the trainee, apprentice or employee will have a detailed portfolio of their work, whilst their trainer will have transparent, auditable records of the training, which meet with Australian Qualifications Framework (AQF) compliance standards.
Trainees, Apprentices and Staff
        Enter Data into Online Profiling Cards
        Track their progress using the profile21 graphs
Employers
        Review, Accept and Reject cards
        Track the progress of their trainees, apprentices and staff using the profile21 graph
RTOs/ Trainers/ HR Departments
        Monitor users progress, identifying skills gaps and areas requiring more attention
        Track card submission, ensuring the user is no more than 1 card overdue
Q. Do all apprentice electricians have to use Profiling?
A. With the support of all key industry stakeholder bodies, Profiling is the industry preferred and recommended method for the collection of the on-the-job evidence for assessments for apprentice electricians. It is intended that profiling will be adopted across the full range of the Electrotechnology Industry apprenticeship training programs including electrical, refrigeration, lifts, instrumentation, and electronics, because it facilitates:
a singular process for gathering workplace evidence
formal workplace information and evidence
limited intervention in the workplace of assessors
improvements in safety and safe work practices
Q. Can apprentices use Recognised Prior Learning (RPL) under Profiling?
A. Yes. An existing apprentice can seek Recognised Prior Learning (RPL). This can only occur in liaison with an RTO or Trainer.
Q. How do I login to profile21?
Go to the profiling website: www.profile21.com.au
Click the Login button in the top-right corner.
Enter the username and password specified for your account
Q. What happens if I've forgotten my username or password?
In order to retrieve your login details, you will need to contact the profile21 helpdesk via phone (03 8679 5315), or use the Technical Support enquire form located in the Contact section on the profile21 website.
Q. I made a mistake with a submitted card, what should I do?
If a card was submitted by mistake, you will need to contact either your employer or RTO/Trainer and request to have the card rejected. Once rejected, you will be able to edit that specific card and resubmit it to your employer.
Q. I need to contact the profile21 helpdesk team, what is the best way?
You are able to contact the helpdesk team by phone (03 8679 5315) or the various enquire forms located in the Contact section of the profile21 website.
Alternatively, using the message function in profile21 under the messages tab, and a member of our team will get in touch with you
.